Regulat Special Diabetic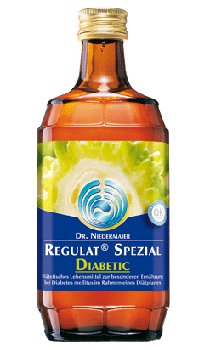 Direction for use:
Morning: best on emtpy stomach
Evening: ideally directly before going to bed
Dosage: 10 ml Regulat Special Diabetic (equivalent of one large tablespoon per dose) diluted within half a glass of water.
350 ml Regulat Special Diabetic
You are interested in Regulat Special Diabetic? Look here.
Ingredients: REGULAT (fermented liquid concentrate consisting of water * Lemon *, dates *, figs *, walnuts *, soybeans *, coconut *, onions *, Glycerin, celery * bean sprouts *, Artichokes *, peas *, Millet *, turmeric *, orange juice concentrate *, bitter melon extract, zinc chloride, vitamin C, natural orange flavor, niacin, calcium pantothenate, pyridoxine hydrochloride, chromium (III) chloride hexahydrate, riboflavin, thiamine hydrochloride, folic acid, cyanocobalamin . (* Certified organic)
Hint: Do not exceed the recommended daily dose. Food supplements do not substitute a varied and balanced diet and a healthy lifestyle. Keep out of reach of children!