Rechts-Regulat Bio
Rechts-Regulat Bio is a product of fermented food. It's the result of the patent-registered cascade fermentation process.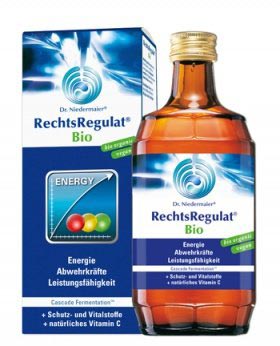 Direction for use:
Morning: best on emtpy stomach
Evening: ideally directly before going to bed
Dosage: 10 ml Regulat (equivalent of one large tablespoon per dose) diluted within half a glass of water.
350 ml Rechts-Regulat Bio, Dr. Niedermaier
If you like to order the biological Rechts-Regulat in 350 ml bottle, click here.
Ingredients: water, lemon *, dates *, figs *, walnuts *, soybeans *, coconut *, onions *, Glycerin, celery *, bean sprouts *, Artichokes *, Acerola-Extract (17,5% Vitamin C)* 0,7%, peas *, Millet *, spices *, turmeric *, saffron *. (* Organically produced DE-Öko-006, EU-/Non-EU-Agriculture)
Hint: Do not exceed the recommended daily dose. Food supplements do not substitute a varied and balanced diet and a healthy lifestyle. Keep out of reach of children!